2018-07
In this summer, JAC with Mexico enjoy this world game together. We have joys and tears, but we still go forward tighter. As the only Chinese passenger car brand entering Mexico in the current year, JAC Motors officially made breakthrough into the Mexican market with Refine S2 and S3, a breakthrough in the overseas market for passenger cars. JAC has also become the only Chinese auto brand in the local market that covers a full range of products for commercial vehicles and passenger vehicles.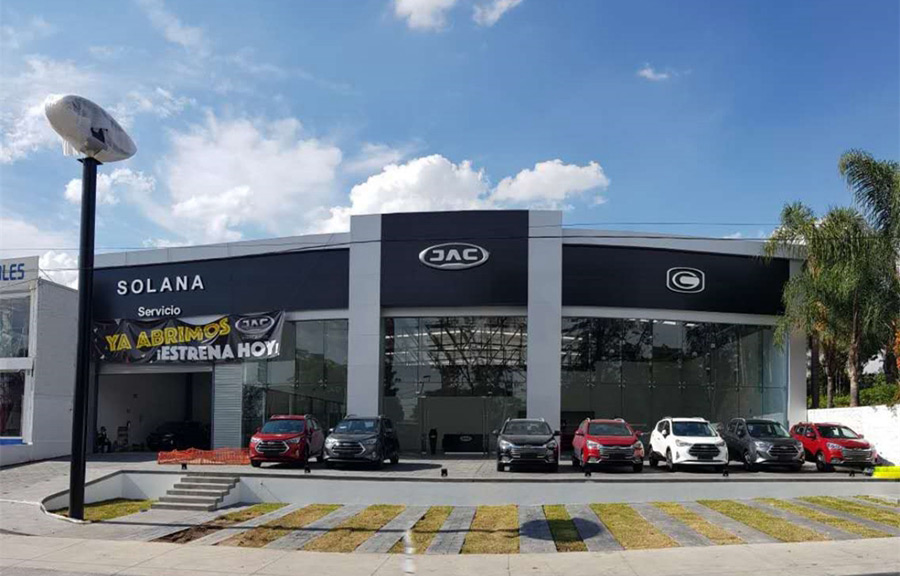 Preferred Chinese Auto Brand, Yield Brilliant Results in Mexico
As an important bridge connecting the North American market, Mexico has always been the place where the world's major auto brands contend, with high entry barriers and fierce competition. With high-quality products and services, JAC Motors has officially launched a small-sized SUV with Refine S2 and Refine S3 since its official launch in Mexico, and has fully rolled out its sales network and seized the domestic SUV market. And it was named " the Most Preferred Chinese Auto Brand" by AUTODINAMICO, a well-known automotive evaluator in Mexico. Brand awareness, sales volume and market position of JAC have made great progress. Up to now, JAC has opened 11 independent showrooms with high standard in Mexico, achieving exports of nearly 3,000 units. The terminal has sold nearly 2,000 units, ranking first regarding sales of Chinese brands in Mexico.

Gaining 10,000 export orders, Refine S7 polishes Made-in-China Products
As a Chinese saying goes, "If you are in full bloom, the breeze will come." Since its establishment, JAC has always been adhering to the principle of positive R&D. Through innovation-driven transformation and upgrading, it has achieved both efficiency and quality, gaining high recognition from the market and consumers. As JAC's first flagship SUV, the Refine S7 has now become the most popular model in its product matrix. At the Beijing Auto Show, the Refine S7 also won 10,000 export orders. The Mexican distributor also made a promise: sales of 4,000 refine S7 in 5 years. In this regard, CEO of our Mexican partner GML admitted that he hoped Refine S7 would be introduced into Mexico as soon as possible. "This car has a five-year or 100,000-kilometer long warranty with high configuration. At the same time, it can also make up for product lines. Such high-end products is urgently needed."
It is worth mentioning that at the just-concluded SCO Summit, Refine S7 was designated as official vehicles and was unanimously praised by guests from home and abroad and became one of the "foreign business cards" of China in Qingdao. With the launch of Refine S7, a super-safe, super-connected, super-powered and super-spaced super-SUV, JAC Motors will seize more market share in the future and open up a new journey for overseas exports.

Promoted by Five-star service, the overseas high-end image begins to take shape
As the first Chinese passenger car brand to build a factory in Mexico, JAC continues to innovate in brand and service, and has achieved outstanding performance and industry status in the international market. This is inseparable from our promise of the five-star quality service. JAC Motors has provided consumers with quality products in several showrooms in five cities in Mexico, while ensuring excellent after-sales services through Mexican factories, and ultimately gaining consumer satisfaction and recognition. It not only transforms the traditional perception of Chinese products from Mexican consumers, but also creates a favorable brand image in North America and even the entire American market. As our overseas high-end image begins to take shape, JAC will further deepen the overseas localization operation, further enhance its brand appeal and compose a new overseas chapter of the Chinese automobile.
For car brands, products and services are the core, while that of football are players and team tactics. In this year's World Cup, Mexico's top player is none other than Hernandez. This highly efficient shooter who fought in the United States, Real Madrid, Leverkusen and other strong teams, has played nearly a hundred times since wearing the national team's green shirt in 2009, scored 49 goals and became the player with the most balls in Mexican history. This summer in Russia, Hernandez will embrace his third trip to the World Cup. He will team up with his teammates for the Aztec Eagle's wings and go all out. Fighting, Mexico!