On April 25th, at the 15th Beijing Auto Show, official signing ceremony of JAC S7's 14,000 Units overseas orders became the public's eyes. In recent years, JAC Motors has achieved remarkable results in overseas markets with its ever-increasing product strength and five-star standard service. In 2017, SUV series exported more than 40,000 vehicles throughout the year, ranking first among the industry and leaped to a truly 'SUV Champion of Export'. At the beginning of 2018, S7 models were sent to 11 countries for product test, marking its entrance into international market. In early 2018, JAC Motors was named Top 50 the world's most valuable car brand, coming out top among all global automotive brand as representative of Chinese independent brands. On account of JAC's remarkable export volume of SUV series throughout 2017, S7 received 14,000 overseas orders, which not only validated its outstanding performance, but also brought new impetus to JAC's competition in the international market.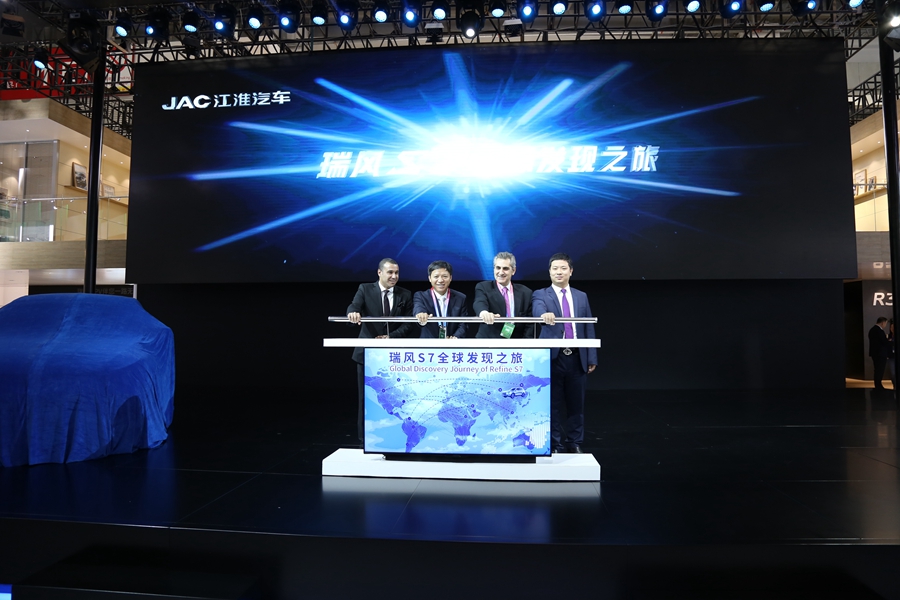 14,000 Units Mass Overseas Orders Strong Momentum of JAC S7

The tremendous achievement of SUV cars export greatly boosts JAC's reputation in overseas market and become a preferential brand for overseas customers to choose, which also makes S7 highly anticipated in overseas market. At this year's Auto Show, JAC Motors officially signed a total 14,000 units order for S7 with representative distributors from Brazil, Chile, Kazakhstan, Mexico, Peru and the Philippines. Mexico distributor signed a gross purchase of 4,000 units in five years, and distributors from Brazil, Kazakhstan, Peru, and Chile had more than 2,000 purchases. Meanwhile, S7 had been sent to 11 countries to conduct product test and started its process of entering the international market.

As an aggregation of JAC's manufacturing experience and technology accumulation in more than 50 years, S7 is a flagship product developed in line with European five-star safety standards by a global R&D team spanning Europe, Japan, and China. It has an ultra-long wheelbase with 2750mm equipped with 1.5T plus 6DCT platinum power, parking assistance plus 360°panoramic imagery and other intelligent equipment. It is a tempting SUV car incorporating 108 top plus 15 proprietary technologies

More space enables more comfortable ride. S7 has a large dimensional size of 4790*1900*1760mm. Its leading 2750mm long wheelbase creates a spacious and comfortable inner space beyond the mainstream compact SUV products. 5 seats is standard while 7 seats is also optional to choose, which can accurately meet the space requirements for diversified driving scenarios and meet the user's expectations of 'two-children-age'family. It is equipped with a big trunk with a volume of up to 1358L. All 22 storage spaces within the car are at your fingertips, making it easy to use. More efficient power makes it full energy-saving. S7 offers two power trains-1.5T+ and 2.0T. The 1.5T+ engine integrates three mainstream technologies of in-cylinder direct injection, turbocharged, and DVVT, and has been awarded the"China Top Ten Best Engine" for two consecutive years. The maximum power of 128kW is comparable to the 2.4L naturally aspirated engine in the market, but the idle fuel consumption is lower by more than 30%. The 1.5T+ engine is equipped with a 6DCT gearbox to form a 'Platinum Drive System'. The combined transmission efficiency is as high as 94%, taking into account both power and fuel economy. The 100-km acceleration time of 2.0T engine requires only 9.8 seconds bringing a more enjoyable driving experience. Higher standards of safety guarantees better driving experience. S7 is designed according to the European five-star safety standard, and the proportion of high-strength steel is as high as 74%.

It utilizes front and rear ventilated brake discs and two-cylinder brakes to achieve a braking distance of 39.4 meters per 100 kilometers, which excels competitors a lot. S7 also pays attention to interior air safety and adopts green interior materials. The new car has no odor, whose harmful air content is far below the national standard. More advanced intelligence creates free control. S7 integrates multiple intelligent interactive functions such as parking assistance and 360°panoramic imagery in order to bring users a new smart driving experience. In addition, S7 is equipped with automatic lock, reversing rearview mirror and other functions which are not available on the same level of other products.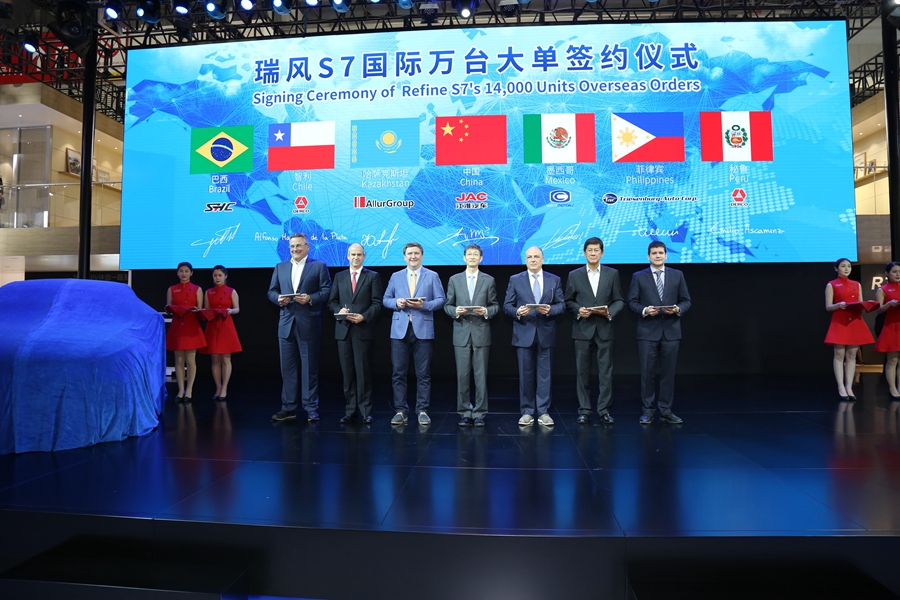 High Overseas Reputation JAC S7 Global Discovery Journey Starts

At this year's Auto Show, JAC Motors officially started S7 Global Discovery Journey, conducting experience travel exhibitions in Brazil, Mexico, Peru, Chile, Egypt, Kazakhstan, and other countries, and having the world to further understand the charm of Chinese manufacturing. Countries spanning this discovery journey are also advantageous foreign markets for JAC. The event not only explores overseas cultures in different regions, it will also allow consumers to fully witness the influence and competitiveness of JAC Motors in the international market.

JAC ranks first in SUV exports, which is a result of its accumulated product quality and strength. As early as in 2013, JAC won the Asia Quality Excellence Award which represented the highest quality award in Asia in terms of innovation in quality practice and outstanding achievements. It became the only Chinese company to win the award in 2013 and was the first to receive this award among Chinese Auto Company. With the support of technical strength, in 2015, S3 successfully passed the EU standard collision certification test, which verified its excellent safety performance. Up to now, all JAC SUV models have passed this certification and been more internationally recognized. Based on leading quality, JAC Motors has received attention and praise from Chinese and foreign state leaders.

In March 2015, JAC Motors signed a KD Assembly Agreement with SAP in Kazakhstan under the witness of Chinese Premier Li Keqiang and Kazakhstani Prime Minister Masimov. In November 2016, the two prime ministers also witnessed the launch of the automobile project in Kazakhstan through remote video connections, marking the successful operation for another major project of Sino-Kazakhstan cooperation. And JAC Motors has also become a new benchmark among China's independent automobile brands regarding "The Silk Road Economic Belt". In November 2017, JAC Refine S2mini made its debut in the Paraguayan government family car tendering program. As a key model, it was placed in the center of the presidential palace and competed with the world famous automobile brands such as Volkswagen, Ford and Chevrolet. Paraguay President Olasio Carters personally visited and experienced the S2mini, and spoke highly of it.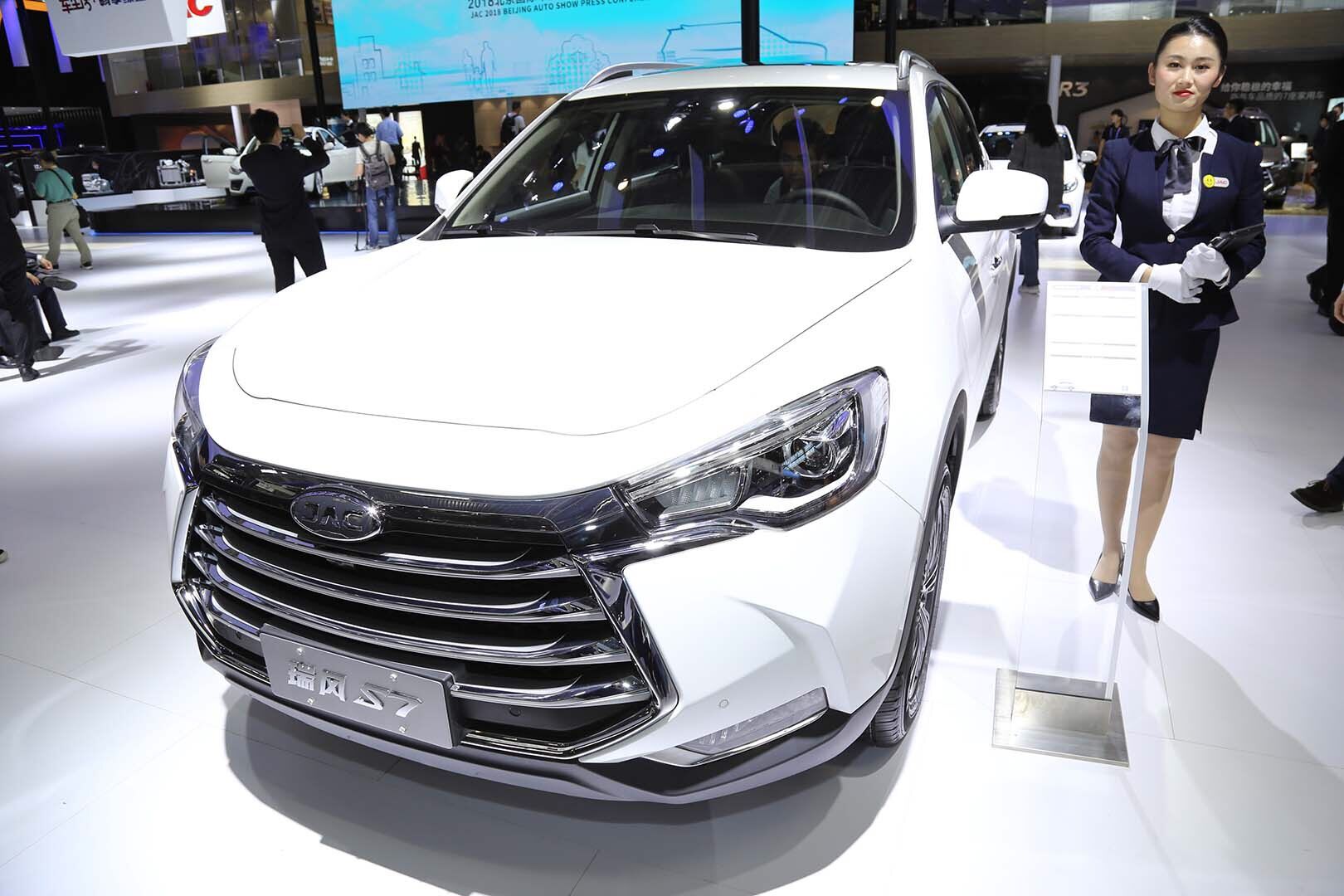 Supported By Globalization Strategy, Overseas Market of Refine SUV Fully Blooms

At present, JAC has achieved a global strategic layout in Europe, Latin America, Africa, Asia, and the Gulf region, and has made great achievements in all markets. In the EU high-end market, JAC achieved market breakthrough with S3. At the end of September 2017, the Italian Ministry of Transport reviewed and passed JAC's factory site review and quality management system review, and in December of that year formally approved the issuance of the S3 EU certification. Since December of 2017, the first batch of more than 300 JAC S3s have been imported into Italy, marking JAC's formal entrance into the EU high-end market.

In Mexico where the independent brands have always been difficult to break through, with the introduction of S2, S3 and the release of brand-new passenger vehicle logo, in 2017, SUV achieved exports of more than 1300 units. The automotive evaluation experts named it as "China's most preferential car brand" on the YOUTUBE car channel.

While our cars are popular in overseas markets, JAC has frequently exposed in high-end overseas auto shows and service events to upgrade its brand image. In 2017, at the invitation of the organizer of the Kazakhstan Expo, S3 showed up in the 2017 Astana Expo in Kazakhstan to display a new image made in China. In addition, last year, at the Pan-American Bank Summit held in Paraguay, 60 units of the S2 were selected as conference vehicles and during the Carnival in Venezuela 2017, JAC passenger vehicles were converted into a National Guard vehicle for the smooth running of the carnival. Frequently used as high-end 'Star' models, JAC passenger vehicles has been highly recognized by the local market and customers, polishing the brand.

The signing of S7 mass overseas orders indicates that it has achieved a substantial breakthrough in overseas market. As S7 is introduced into overseas market and JAC has constantly upgraded our products, this global discovery journey will enable customers from all over the world to deeply understand and experience S7 and further refresh the brand image of JAC Motors, providing new impetus for our overseas development. In recent years, the development of China's independent brands has accelerated. JAC, with its excellent performance in the international market, strong technical accumulation, solid overseas layout, and other advantages, has been frequently acknowledged in the international market. JAC Motors is stepping into the international arena on behalf of China's independent brands. With better products and brand image, we will display the new strength of intelligently manufactured cars in the automotive market.