On Nov.3rd, 2017 China(Macau) International Automobile Exposition was held in Cotai Expo, the Venetian Macau, China. JAC brought its main new-energy products covering both commercial vehicles and passenger vehicles, as well as the newest high and medium products to attend the exposition, among which JAC new-energy star products light-duty trucks i5,electric van i6, and pure electric compact SUV iEV7S, JAC first mini electric vehicles Iev6e have formed the strong new energy portfolio, SUV S7 and sedan A60 together showed the strength in high and medium automobile market. In this exposition, JAC will demonstrate its brand upgrading decision and confidence with its achievements in new energy technologies and high and medium automobile fields to the public.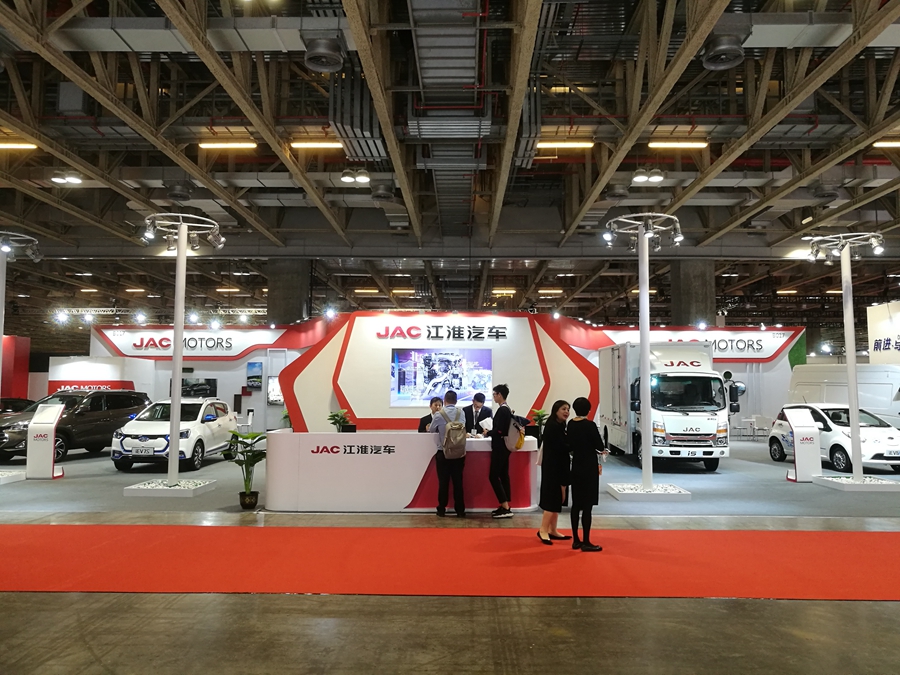 Systematically Layout New Energy Fields Down-to-earth Research to Hand with World Automobile Giants

In the wave of energy saving and environmental protection, new energy vehicles are obviously the most eye-catching in the exposition. This time, the four new energy products covering commercial vehicles and passenger vehicles which JAC were showcasing have fully reflected JAC innovation and breakthrough in new energy fields.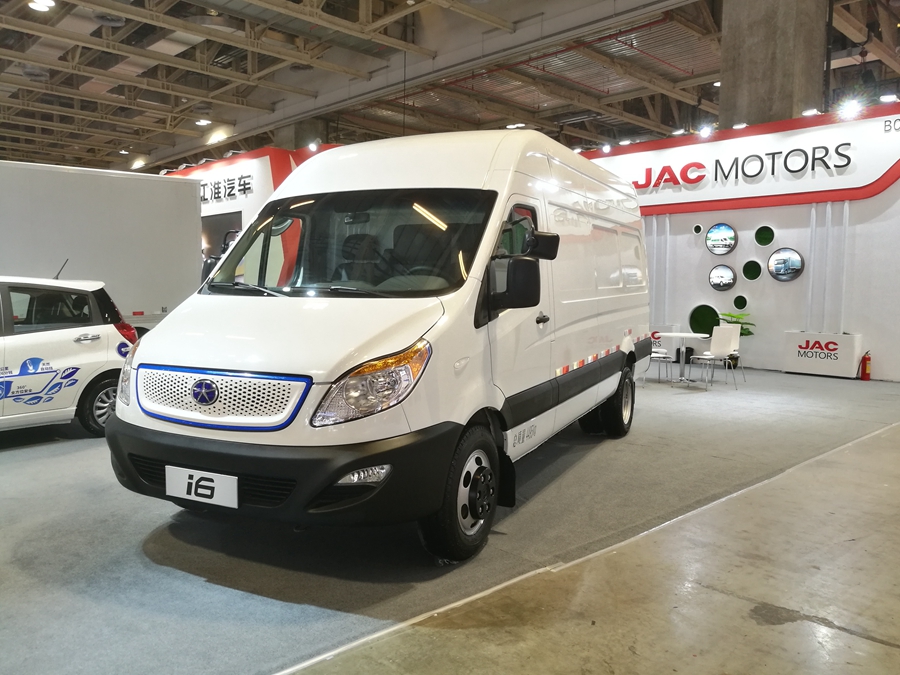 The exhibited i5 and i6 are JAC pure electric commercial vehicles. Their mileage is more than 160km with the newest technologies of remote monitoring system, energy recovery and energy intelligent management and so on, among which, i5 has integrated JAC light-duty trucks and pure electric vehicles competitive R&D resources equipped with four lithium iron phosphate battery, the maximum power of the motor driving system is 150 HP with the mileage of 180 kilometers. By using the light weighted cargo, the cargo volume can reach 15.67 cubic meters, fully meeting the demands of city logistic branches distribution, while i6 can be used for the goods of 0.5-15 ton with the cargo volume can reach 11 cubic meters with the mileage of 160 km.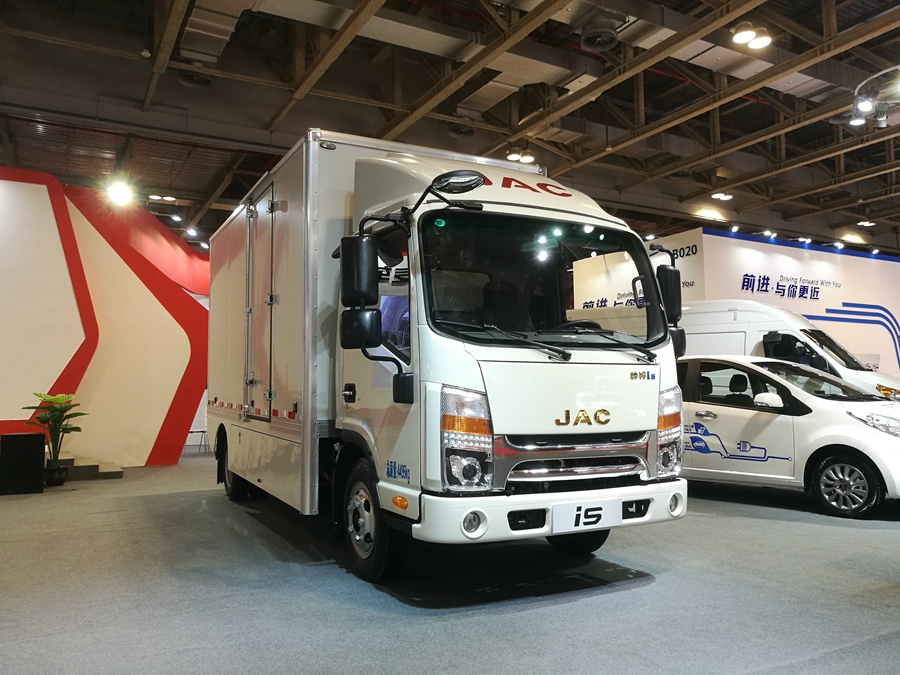 In the security aspect which is also the customers most concerned, i5 and i6 all have realized the three-level security protection of spare parts level, system level and the complete vehicles level, achieving the high voltage safety, complete vehicles crash safety and EMC safety in the multi-power components.
As JAC first mini electric vehicle, the highest speed of iEV6E can reach 102km/h, under the economy mode, the driving mileage can reach 205km, with one-hour 80% fast speed efficiency, this electric vehicle can absolutely meet the daily transportation demands. Besides, this vehicle has equipped with intelligent interconnection equipment such as Baidu Carlife and so on, and its complete vehicle security can reach international ASIL C class level, the product capability of which is much better than the products of the same class.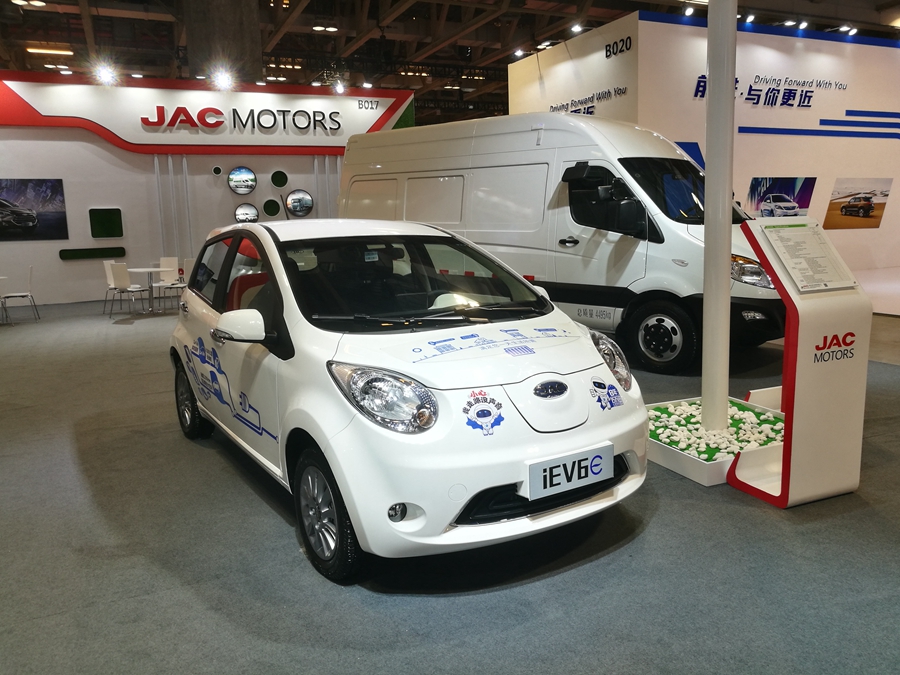 iEV7S, JAC completely new compact electric SUV, has outstanding energy recovery technologies and 39kwh ternary battery excellent performance with the driving mileage of 251km under the comprehensive working condition, and the longest continued driving mileage of 350km, moreover, this vehicle is equipped with keyless entry and Passive Entry & Passive Start (PEPS), automatic climate control, 360-degree panoramic, semi-automatic parking and other intelligent devices to provide consumers with most comfortable driving experience.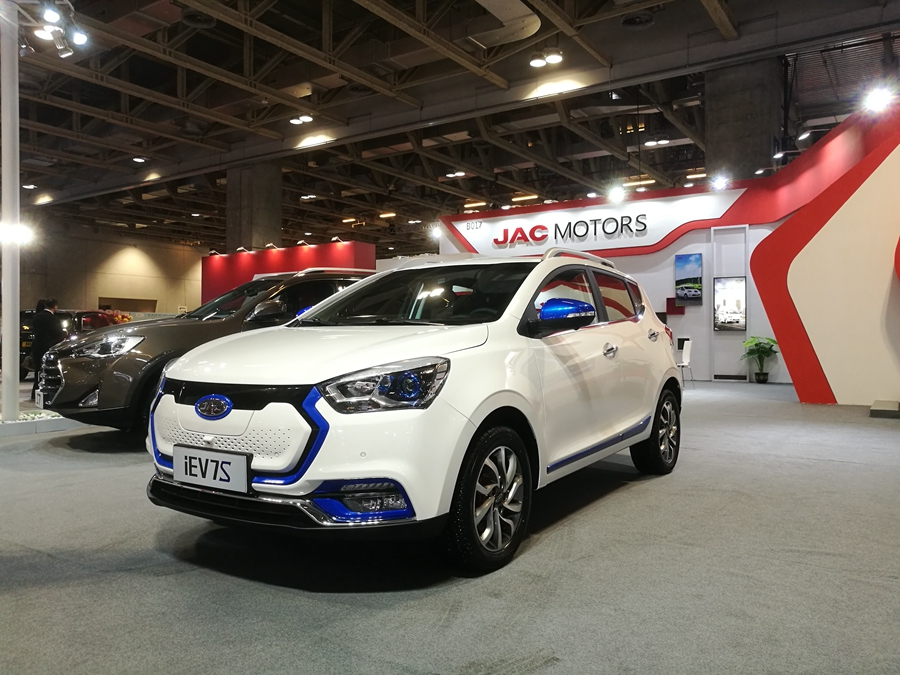 As the earliest enterprise to start the research, production and application of new energy automobiles, JAC has already mastered core technology after ten-year and seven-generation overlapping development with the accumulative application of 55,000 unites and the accumulative mileage of 700 million kilometers.
"Right now, JAC has systematically mastered the electric motors 'three core technologies including battery pack, electric motor and electric control, as well as the electric steering, electric braking and energy recycling, moreover, JAC has realized breakthrough in the battery thermal management, intrinsic safety management technologies." One of JAC responsible person introduced.
Because of the solid technologies in the new energy automobiles fields, JAC was selected by Volkswagen and on June 1st, JAC and Volkswagen officially signed the joint venture agreement in Berlin, Germany-the two parties jointly set up a joint venture with each 50% share of shareholding to carry out the R & D, production and sales of new energy vehicles, and provide related mobile travel services. Also attracted by JAC new energy technologies was Nextev Company, last April, both parts signed a strategic cooperation framework agreement to fully promote the cooperation in the new energy vehicles and intelligent connected cars. More than one year since the cooperation signing, in this May, the first cooperated car-ES8, which is also the first all-aluminum car in China, officially realized mass production in JAC Hefei plant.

High-end products and upgrading brand

In 2017, JAC has launched A60 and S7 and other high-end products based on customer value, which provided a powerful support for JAC brand upgrading.


JAC S7 is qualified of 'High-scale, High-configuration and High-performance '. The Body's dimension is 4790mm/1900mm/1760mm and the wheel base is 2750mm, which makes S7 in the advantages of space performance even can match with the middle-class SUV. In the terms of configuration, S7 is equipped with some high-level intelligent equipment such as self-adaptive cruise control, lane departure warning, autobrake, anti-collision warning and blind spot monitoring etc. Not only makes S7 standing out from the same-class SUV but also reach the level of semi-auto drive. 'High-performance' is based on 1.5TGDI+6DCT 'platinum transmission', three mainstream cutting-edge technology of 1.5TGDI, turbocharging and DVVT; the maximum power is 128Kw, the maximum torque is 251Nm and 'Top 10 Chinese engine' integrated with small loading economy and heavy loading dynamic.
  
Except for S7, JAC has another high-end car-A60 which has become the first pillar of JAC brand upgrading. In terms of power performance, A60 has independent R&D 'Platinum power train' high-effective power system with TGDI engine of gasoline direct injection, turbo-charging, variable valve timing technology and other technologies, with better dynamic performance and fuel economy. What's more, JAC has injected the original spirit into the manufacturing of JAC A60 to make sure customers can feel the sincere heart of JAC when they are driving A60. Benefit from NVH design, A60 can control the noise below 54 db under the speed of 30-80km/h to make sure the car in the first-class mute standard. A60 has equipped with professional high fidelity JBL stereo with 13 high quality loudspeakers to create a comfortable private concert hall.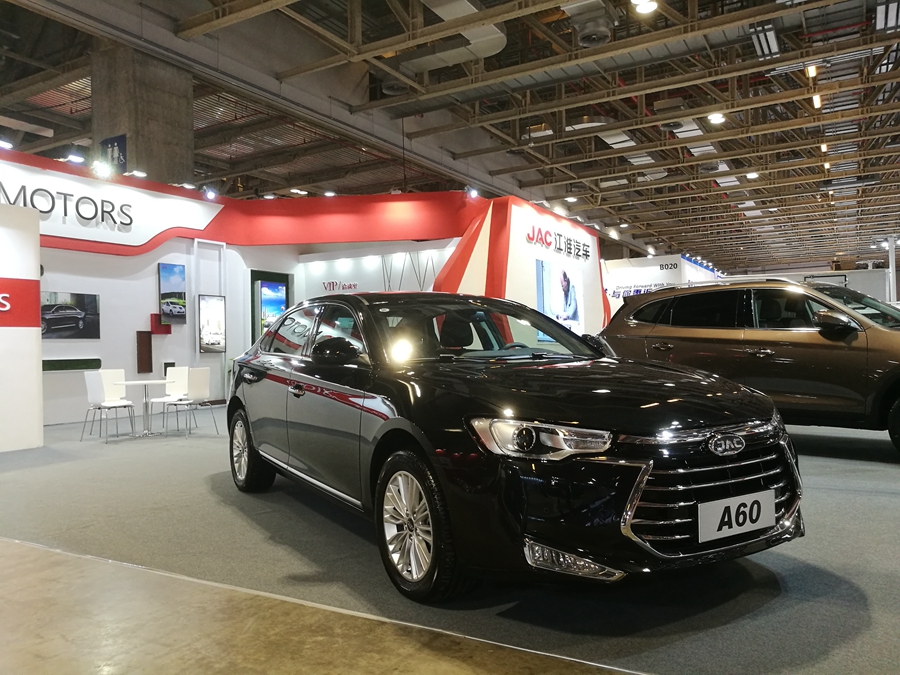 This is the seventh year of JAC taking part in Macao auto show. Under the strategic guidance of 'brand upgrading, market internationalization', JAC further strengthen the development of overseas markets. Now, JAC has entered into 130 countries and owns 19 KD plants around the world. It also owns all series of products to export different countries and satisfies different levels of market demand. From January to September, JAC has exported about 50,000 units' vehicle, up by 16.2% compared with last year. Among them, SUV has exported more than 30,000 units and ranked No.1 among the industry.

In the future, JAC will continue to adhere to the strategy of expanding and enhancing commercial vehicle business, refining and optimizing passenger car business and vigorously developing new energy vehicle businesses, in accordance with the core value of customer-oriented, quality-based and be realistic and pragmatic, and always adhere to 'upgrading brand, leading technology, platformed products, overlapping development, refined manufacturing and internationalized markets ', providing better products and services for global customers and speeding up JAC brand upgrading.