On 18th April, 2014, JAC International Distributor Annual Conference was held in Qingdao which is one of the most beautiful coastal cities in China, known as "World Beer City". The leaders from officials of embassies, JAC board chairman Mr. An Jin, JAC general manager Mr. Xiang Xinchun, JAC International general manager Mr. She Cairong and over 300 distributors from 56 countries have taken part in this conference together. The theme of this conference is 'Quality JAC, Winning Further'. All of world JAC distributors gathered here to review our efforts and harvests in 2013 and work out the development plan in 2014.
The board chairman Mr. An Jin and general manager Mr. Xiang Xinchu delivered the subject speech of the conference respectively.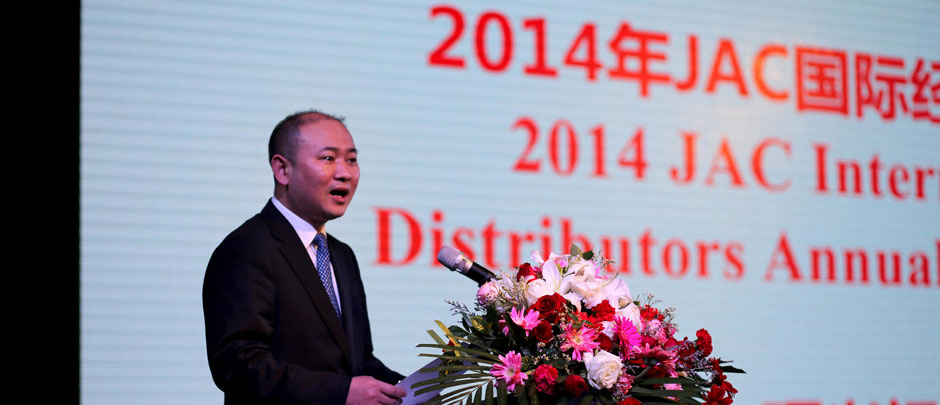 In 2013, in the background of slow domestic economic growth and weak international market demand, JAC MOTORS still achieved good business performance. JAC MOTORS sold 496,000 units (the Group's sales was 520,000 units) in 2013, up 6.59% year on year, ranking eighth in the industry. Among them, it sold 437,000 units on domestic market, up 6.30% year on year, and sold 58,000 units on international market, up 8.78% year on year. Commercial vehicle businesses have covered whole product line ranging from light truck, heavy truck, bus chassis, pickup, mini truck, and light passenger vehicle. New-generation N- series light truck has received good response from foreign market, becoming an important force in high-end light truck market; centering on heavy truck strategic move of "optimizing product line and enriching product variety", JAC MOTORS has sped up research and development of brand-new product research and development, and gradually formed product layout covering high, medium and low series. Passenger vehicle business adheres to "high-quality goods route", makes differentiated product positioning for different consumer groups, adheres to the technology strategy of platform development, perfects and optimizes three product lines, i.e. M series (MPV), S series (SUV), J series (car). Second-generation products represented by S5, J4 (A30) have gained stable foothold in market, which indicates that JAC has achieved initial results in terms of passenger vehicle strategy of "high-quality goods route".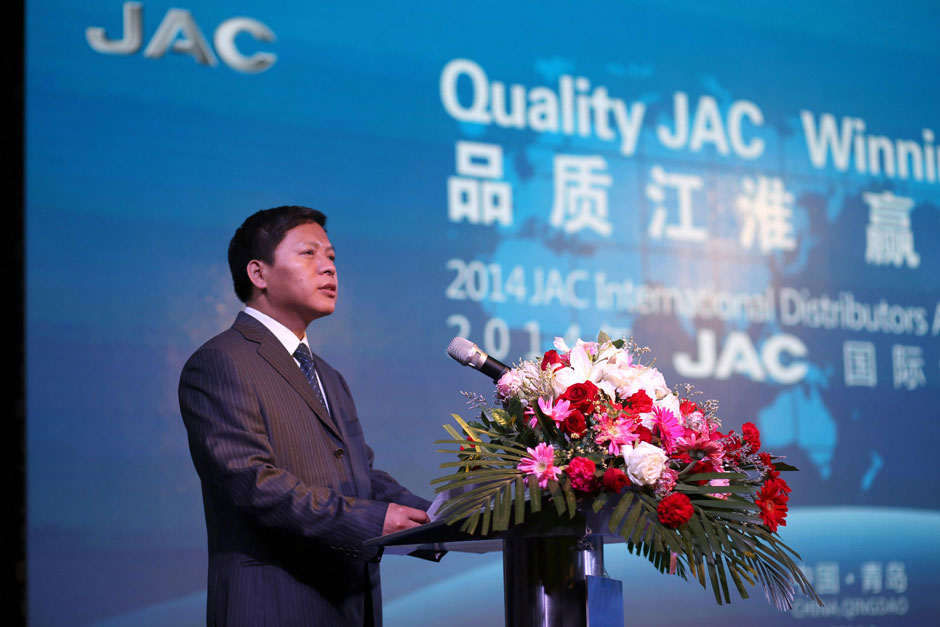 In international markets, According to statistics of China Association of Automobile Manufacturers, China exported 977,300 units in 2013, down 7.5% year-on-year. In the case of a decline in the whole industry, the export sales of JAC MOTORS grew against trend, the sales on international market in 2013 was nearly 60,000 units, up 9% year on year, which accounts for 12% of JAC's whole sales. In which, the sales of light trucks were 207,000 units, up 6.4% year on year; the sales of heavy trucks were 32,000 units, up 39.9% year on year; the sales of chassis were 29,000 units, up 9.7% year on year; the sales of passenger vehicles (MPV, SUV, cars) were 203,000 units, up 3.1% year on year. Continuous optimization of product structure: commercial vehicles continue to give play to the supporting role in scale and efficiency, light truck export leading extent is further expanded, and the exportation of high-end light trucks continue to increasing which strengthen the whole market competitiveness of light trucks; heavy truck export growth rate is much higher than the industry's average level; Passenger car the scale of J5 is further expanded and S5 is launching into overseas markets completely. JAC displays its brand concept of 'Quality JAC' powerfully.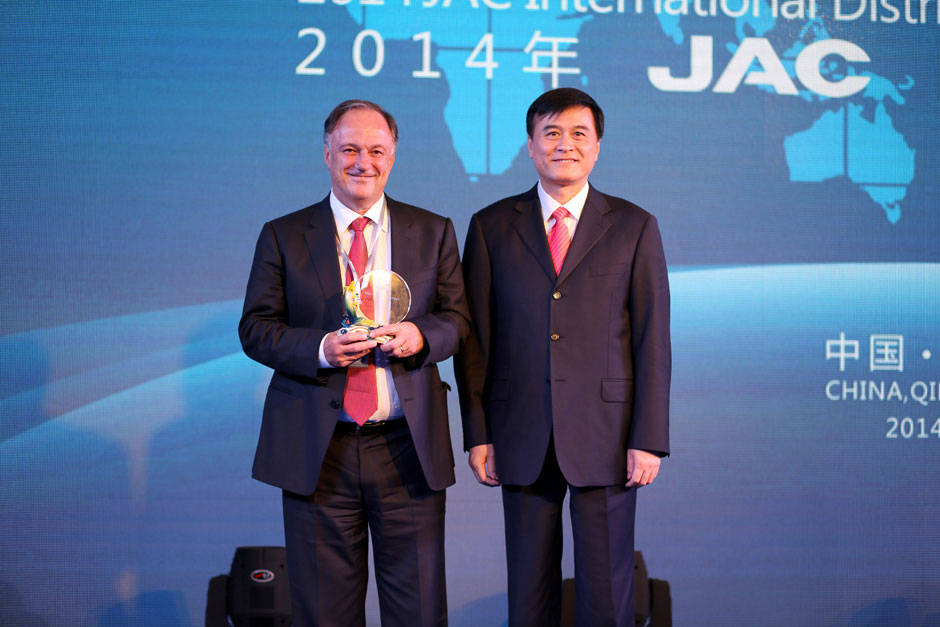 JAC board chairman Mr. An Jin specially emphasized that the philosophy of customer- centered which refers to the operation in which we shall respect customers, keep focused on customers' degree of satisfaction, and provide customers with products and services in good faith, treat matters from the perspective of customers, and lay stress on management and value increment of the customer value chain, in a bid to win over customers. The 50th Anniversary of the Founding of JAC will take place in 2014,we shall observe the customer-centered operation philosophy more spontaneously and systematically, so as to constantly refine the operation quality and efficiency. JAC vows to "Better Products and Better World"
After that, JAC awarded the individual and excellent distributors who made great contribution in new marketing exploration, operation enhancement, new products promotion, overseas KD establishment, net work establishment, brand promotion and customers' services in 2013 for thanks their hard working and excellent performance.